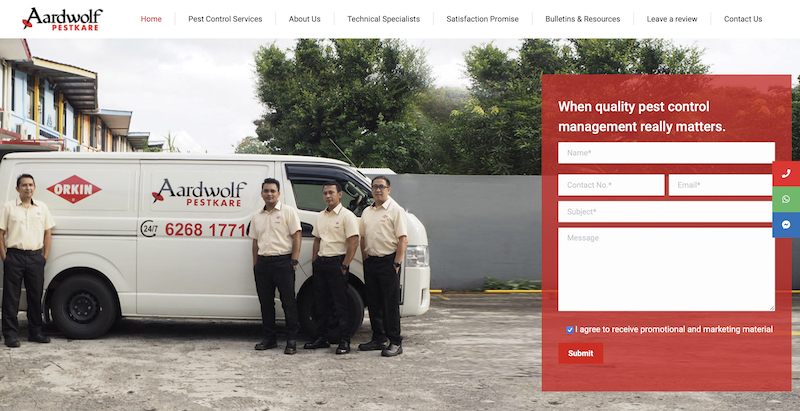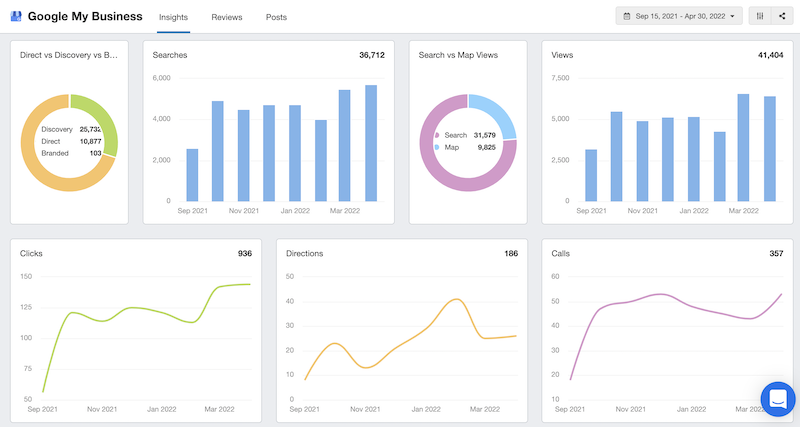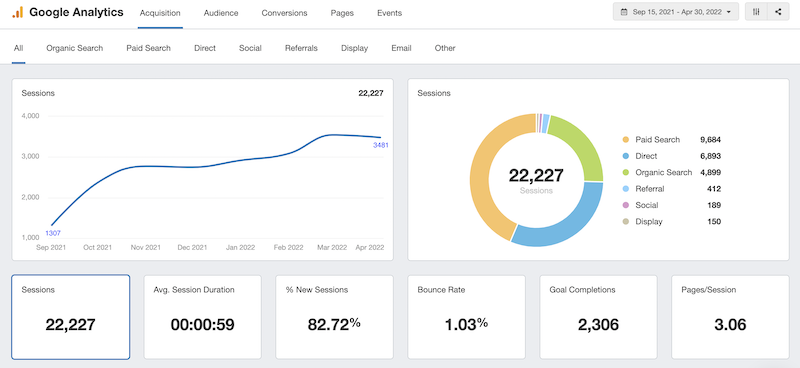 Challenge:
Aardwolf Pestkare is a leading pest management service provider in Singapore. They engaged us to increase their online presence as well as boost customer enquiries for the different services they provide.
The only digital asset they had before we came on board was a basic website. So our objective was to increase their website ranking and use the right social media platforms to maximise their reach.
Solution:
Initial Set-up

Website Audit: In-depth audit of the website's structure and the content to understand the gaps and how we can fill them.
Search Engine Optimisation (SEO): Keyword analysis that would help us map the appropriate keywords for the industry.
Social Media Management: Identify the right social media platforms to help Aardwolf Pestkare reach their target customers and create the accounts on Facebook and Instagram.

Google Business Profile: Take ownership of the Google Business profile and Google My Business account to manage the business reputation on google.
Deliverables

Website on-site optimisation.
Monthly content creation through blogs on relevant topics.
Create and post engaging content on Social Media regularly.
SEO to increase brand awareness and drive traffic to the website.
Manage the Google Accounts to generate leads and reviews.
Step 1: Analysis of the Digital Assets
We started by doing a thorough analysis of Aardwolf Pestkare's website. We tested and reviewed some key indicators like the user experience, speed, and traffic.
We further analysed the website for SEO, including an On-page SEO audit, backlink analysis, and search engine ranking analysis.
Step 2: Market Analysis
We used various sophisticated tools to understand the pest control industry in Singapore and identify Aardwolf Pestkare's top competitors.
Our detailed competitor analysis gave us insights into the best practices followed in the industry. As a result, we were able to pinpoint the keyword gaps and build our SEO and Social Media strategy accordingly.
Step 3: Implementing the Strategy 
We designed an SEO strategy with pest treatment-specific keywords to match the search intent of the customers. We implemented these changes on-page, off-page, and on technical SEO to bring up the SERP ranking.
We also initiated high-quality theme-based monthly blogs that are informative and use the appropriate keywords, which eventually led potential clients to the website.
Creating and publishing valuable information regularly on aardwolf Pestkare's social media pages like Google my business and Facebook to generate more leads and increase the reach.
Step 4: Monitoring the Progress
We regularly scrutinise the website ranking and send reports to the client.

We also monitor the leads generated every month through various platforms and propose the client to redirect their resources if needed.
Have a monthly meeting with the clients to present the progress and address their concerns.
If we notice any gaps, we revisit our strategy to make it more powerful and implement the changes.
We manage the website updates and fix any broken links, if any, on a regular basis.
Results
Within six months, there has been an increase in website visits from 1000 to 3000.
The website ranks on the first page for more than 10 keywords in a short span.
More than 100 enquires are received monthly via different channels.