Generate More Brand Awareness By Marketing on Chinese's Most Trusted Social & Ecommerce Platform – Xiao Hong Shu
Xiao Hong Shu Marketing and Advertising - Authorized Partner
Xiao Hong Shu (小红书) also known as "Little Red Book" or "RED" is one of the largest and fastest growing social ecommerce apps in Chinese Community.
Xiao Hong Shu describes itself as "a sharing platform for young people's lifestyles through deep-rooted UGC shopping sharing community" The platform is designed to help users discover and purchase products, share recommendations, and provide helpful tips. Users often go on Xiao Hong Shu to investigate products and look for in-depth reviews and tutorials created by other users.
Think of Xiao Hong Shu as a combination of Instagram and TikTok. Just like both platforms, you can save posts you like, interact with content and other users, create your own content, connect with brand pages etc. But with Xiao Hong Shu, you get the added bonus of in-app purchasing, a stronger sense of community, and more lengthy, detailed blog-post type content. 
The
Best 4 Industries

in Xiao Hong Shu
As you know 70% of the user from Xiao Hong Shu is female,  they are looking for beauty products and services, that's why there are more and more people start their own beauty salon and use Xiao Hong She to highjack the online traffic.
Singapore is a food parodies, no matter local Singaporean or Foreigners, they always looking for nice and unique food. Xiao Hong Shu is a worldwide Chinese platform, when foreigners travel to Singapore, they definitely find the eating place by Xiao Hong Shu instead of other platform.
More and more 90s are gradually becoming new moms. Meanwhile, Xiao hong shu provides scientific parenting knowledge and instructions for making baby food for these mom communities. They will influence the new mummy generate for baby products.
Living is an popular topic across various platforms. People love to showcase their household items as a way to express their lifestyle. Many people also share their home renovation journey online, providing insights and inspiration to others. Through these sharing posts, household products are naturally displayed, subtly influencing others and their choices.
Why Xiao Hong Shu Matters?
Xiao Hong Shu is a fantastic platform for international brands to increase their brand awareness as well as sell their offerings through this cross-border e-commerce marketplace. Simply open your official brand account to enjoy the features.
The Age of Lifestyle Upgrade
Over the past decade, Singapore's advancing economy has provided businesses with substantial growth opportunities. The consumer market is on the threshold of a revolution that offers new opportunities, one in particular is known as the "Lifestyle Upgrade" or "Consumption Upgrade"

90% of Consumers Buy Products Based on Their Reputation
The consumer relies on word of mouth and online product recommendations when making purchasing decisions. They lack trust in ads and internet search engine results, even reviews on ecommerce sites have been known to be faked.
Consumers Turn to Social Media For Product Recommendations
Consumers are increasingly turning to social media for product reviews. Unlike other platforms where they have to soft through many types of content to find reviews, Xiaohongshu is a place they can go to easily find what they are looking for.

The Chinese Social Community Globally
Beside WeChat, Xiao Hong Shu is a new Chinese social media fast growing outside China. This Platform connect the Chinese from different places, Users are able to share their life style by post photo or video.
How Does Xiao Hong Shu
Benefit You Business
Chinese Ecosystem

Platform
Users go on Xiaohongshu with no intention, just to browse, see what others are posting about, discover new products, learn from tutorials, and pass the time.
Users will search specific keywords and hashtags to find posts about the product, brand, or topic they are interested in learning more about
Create Content & Interact With Other Users
Users are able to like, comment, collect, or share other users' posts. The quality of comments on Xiaohongshu tends to be higher than other platforms. Users will share their experiences with the products mentioned in the post, ask questions about the products, and give advice to other users who have left comments.
Users are able to purchase products directly on XHS while others will do research on XHS then hop over to another platform to buy. Either way, having a presence on XHS is a key part of the consumer journey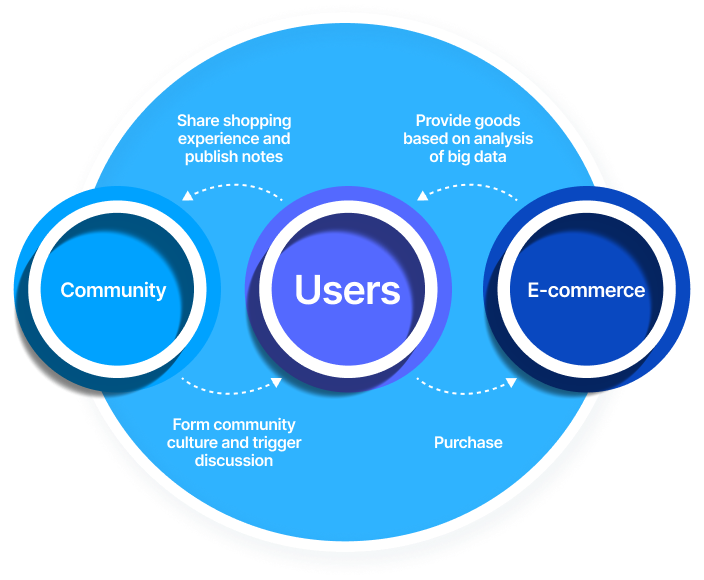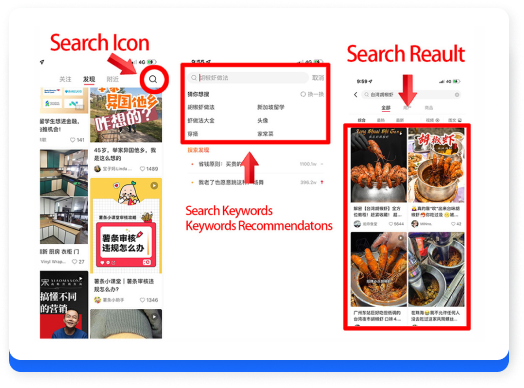 A Product Discovery

and Recommendation Search Engine
Xiao Hong Shu is essentially a Chinese search engine!
When users are looking for a certain type of product or services, they will enter search terms into the Xiao hong shu search bar the same way one would search on Google, for example, "新加坡秘书". The search result will be displayed in the result page. The algotherm is similar to Google that we have tested for some of our customers, we can always push up the post to first few results to increase impression and conversion. 
KOLs are considered trustworthy. Users pay attention to high-quality content shared on a brand account, but they will always value user-generated content more. Many consumers rely on KOLs to help them cut through the noise and make speedy purchasing decisions.

KOLs understand how to develop the appropriate type of content for the platform. They can write in a conversational, informative tone that appears genuine.

KOLs confirm desirability. If a consumer goes to Xiaohongshu to investigate your goods and finds little to no user-generated content about it, they become dubious about the product's quality. KOLs also aid in the discovery of new audiences for your business.

In Singapore, you can choose the KOL from Singapore, Malaysia, China…. there is no boundary for your business.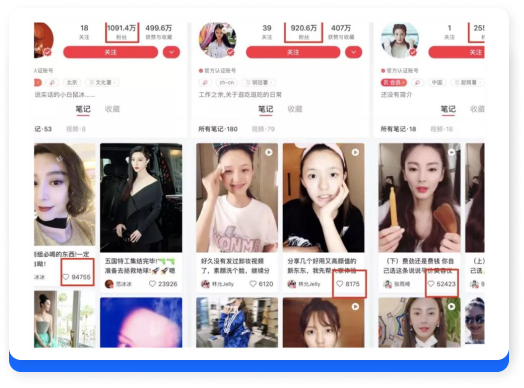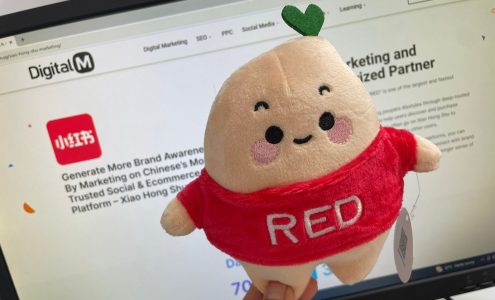 Digital M is XHS's authorized advertising partner in Singapore. We are also a highly professional digital marketing agency proficient in both English & Chinese. We have a dedicated Chinese team responsible for promoting on platforms such as Xiao Hong Shu and WeChat. Our team is knowledgeable about both the Chinese and Singaporean markets. Digital M also work with hundreds of KOL and KOC in Singapore. We always monitor their post for each engagement to make sure they can delivery the highest impression to their post.
Short-form video taken by mobile (Less than 30 second) crafted specifically to drive engagement actions and captivate viewers on social networks. It can be self-talk, product introduction, short-story…
Short-form video taken by DSLR (Less than 60 second) crafted specifically to drive engagement actions and captivate viewers on social networks. It can be self-talk, product introduction, short-story…
Will be additional charges for both our management and KOL fees
Xiao Hong Shu
Ads Video Samples
Contact Us for Customization Package​
We provide different type of social videos that taken by mobile or DSLR, if you are looking for higher quality, you can contact us for more information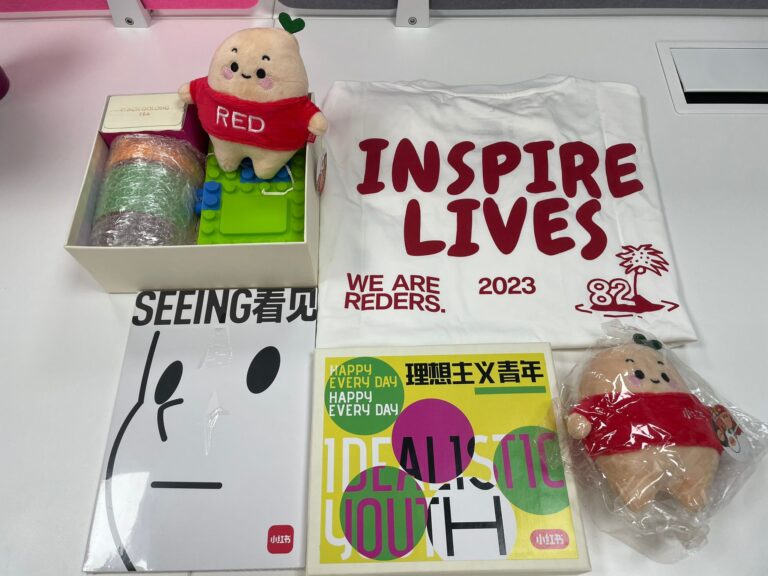 Different with other social platform, XHS is a full regulated place, there are many things can't be done, such as share your mobile number, Share your QR code, private massage to many people….
There are some of the industries don't allow advertising as well, such as: Bank, Insurance, Aesthetic… 
There are many reasons 
Your content is boring
You have bread XHS's rule and your account have red flag
Your content is too promotional 
And More
Yes, definitely work well in Singapore marketing, if you are fall into the industry below, you should start right away: Beauty, FnB, Renovation related, Education… 
A lot people said if your account have been verified as official account, your organic traffic will be lesser. Based on our experience, we don't think that is a reason, content is king no matter what.   
At Digital M, we are the authorized partner with Xiao hong shu, we can help you set up the office account within 1 months. 
Don't ever thing Xiao Hong Shu ads is cheap. infect, the Advertising (CPC) price similar with Google Ads.  Under Xiao Hong Shu's requirement, in order to open the advertising channel, initial payment is from $2000, if your business require Singapore traffic, the opening fund will be $6000.  As authorized partner, we will help you to set up and manage the ads.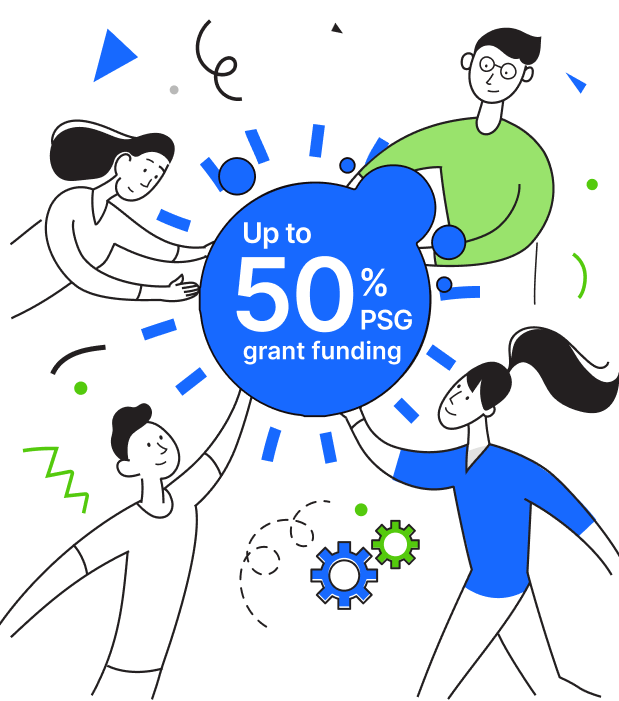 Choose the Right Partner

for your BUSINESS
Our team is committed to look at your needs to create an effective digital presence for your business and achieve measurable impact. Contact us for a non-obligatory consultation with our team of certified professionals with extensive experience in project delivery and digital marketing today.