Successful client relationships

Boost Revenue and Maximize Click Value With Our Google Ads Management Professionals by Your Side
Our experienced team excels in creating winning PPC campaigns through in-depth research, strategic keyword organization, and landing page optimization. We focus on high-impact keywords to attract potential buyers, delivering cost-effective customer acquisition. Google Ads allows you to reach motivated buyers who may not find your site through traditional SEO. With our in-house Ads management team and the synergy of CRO, copy, and design experts, we drive superior campaign performance.

Keyword Research & Competitive Ad Analysis
Keyword Research & Competitive Ad Analysis are pivotal steps in developing a successful Google Ads campaign. These two components collectively inform the foundation of a well-crafted campaign, optimizing your chances for success and return on investment.

Campaign & Ad Copy Creation
We set up your Ads campaign with precision and create persuasive ad copy that resonates with your target audience. Our focus is on generating multiple ad variations that undergo continuous refinement to achieve the highest possible conversion rates, driving success for your campaigns.

Comprehensive Reporting & Collaborative Meetings
Comprehensive Reporting & Collaborative Meetings are integral to our approach. Each month, we provide detailed reports outlining Ads Manager activities and future plans, fostering transparency. Additionally, we schedule review meetings involving our team and yours to facilitate open communication and collaborative decision-making
We're a Google Premier Partner company and a highly skilled Google Ads agency, with certified specialists in all key areas.
Get ready to double your Google Ads ROI. 
Our comprehensive PPC strategy blueprint will outline your website's most significant Google Ads challenges and the solutions to enhance performance.
Google Ads Management Case Studies
Seeking tangible Google Ads outcomes? With over 15 years of experience, we've overseen numerous paid search campaigns, consistently increasing leads and sales month after month.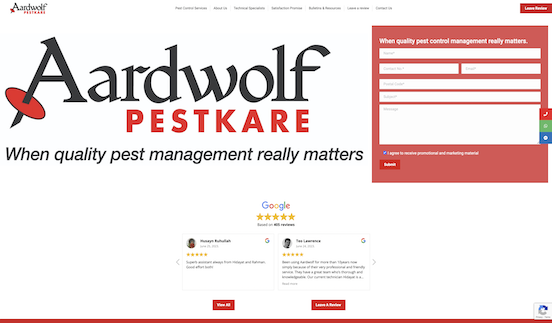 Aardwolf Pestkare
Aardwolf Pestkare, a prominent pest management service provider in Singapore, sought Digital M's expertise in optimizing their Google Ads campaign to boost lead generation in their competitive market. Upon implementing our tailored campaigns, they witnessed a remarkable 85% surge in inquiries.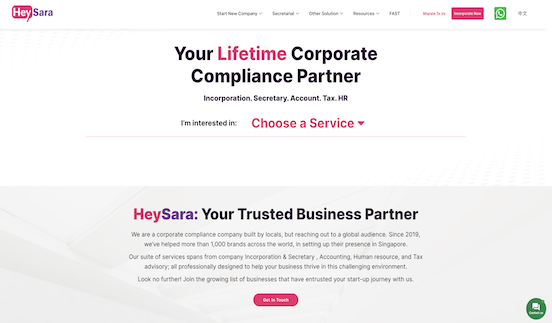 HeySara
Digital M initiated the setup of HeySara's Google Ads account, and shortly after launching the ads, performance showed steady improvement, resulting in an average monthly lead count of 125. We consistently fine-tuned the campaigns to drive cost-effective leads, optimizing the process regularly.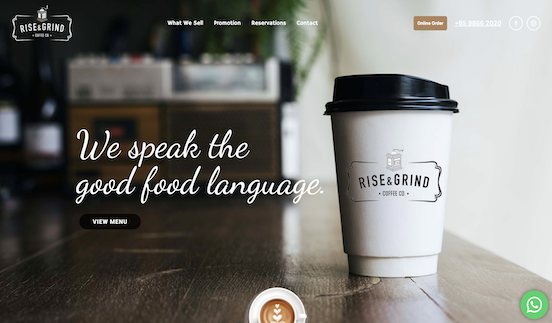 Rise & Grind Coffee Co.
In pursuit of increasing their sales, Rise & Grind Coffee entrusted Digital M with their AdWords management. Through a synergy of website enhancements, keyword diversification, and audience segmentation, we achieved a notable 29% reduction in cost per booking, coupled with a remarkable 33% increase in total bookings.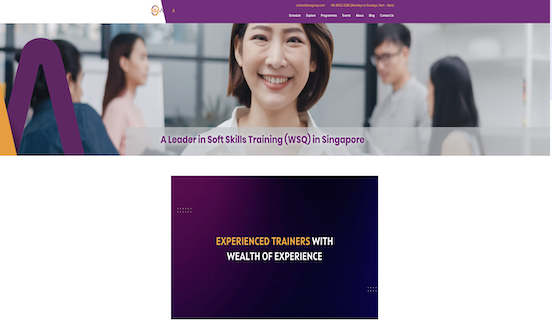 SSA Academy
SSA Academy approached Digital M with the goal of enhancing lead generation and conversions. After a thorough review, it became evident that the campaign required significant adjustments and optimization. Within just one month of implementing the new Google Ads strategy, leads experienced a remarkable 38% increase.
Get Your Google Ads Campaign Estimate
At Digital M, we are dedicated to unlocking the full potential of your Google Ads campaign. Our proposal will outline our strategy, pricing, and how we'll surpass your competition.
Eager to get started? Reach out to us today!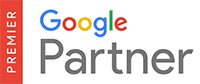 We'll get back to you within 24 hours.
Monday - Friday.

Want To Talk Now?
(65) 8756 2812
Offices open 9-5 SGT.
Understanding the Functioning of Google Ads Campaign Management Services
We provide Google Ads campaign management services to help businesses create, optimize, and maintain their advertising campaigns on Google's advertising platform, formerly Google AdWords. Our services are designed to maximize the effectiveness of your online advertising efforts by ensuring that your ads reach the right audience and generate a positive return on investment (ROI). Here's how we typically work:
Consultation and Strategy Development:
The process often starts with a consultation, during which our campaign manager gets to know your business, goals, and target audience. They will help you define your advertising objectives, whether it's increasing website traffic, generating leads, or driving sales. A comprehensive advertising strategy is developed, including the selection of relevant keywords, ad copy, and a budget plan.
Ad Testing and Optimization:
A/B testing of ad copy and design is conducted to identify which variations perform the best.
Regular optimization of keywords, bidding strategies, and ad extensions is done to improve campaign performance. Negative keywords are also identified and added to prevent ads from showing for irrelevant search queries.
Monitoring and Reporting:
Ongoing monitoring of your campaign's performance is crucial. Our team keeps a close eye on key performance indicators (KPIs) such as click-through rate (CTR), conversion rate, and ROI. We provide you with regular reports that highlight the results and insights from your campaigns.
Campaign Expansion:
As your business goals evolve, we can adjust and expand your Google Ads efforts to target new products, services, or market segments.
Bid Management:
Effective bid management is essential to get the most value from your budget. We adjust bids to maintain a competitive position in search results while staying within your budget constraints.
Landing Page Optimization:
Landing pages are a critical part of your campaign's success. We offer advice or help optimize your landing pages for higher conversion rates.
Remarketing and Display Advertising:
Our service can incorporate remarketing and display advertising into your strategy to reach past website visitors and target specific audiences on the Google Display Network.
Overall, Our Google Ads campaign management services aim to save you time and effort while delivering more effective and efficient advertising campaigns on the Google Ads platform. We leverage expertise and best practices to ensure that your ad spend delivers a positive ROI and helps you achieve your business objectives.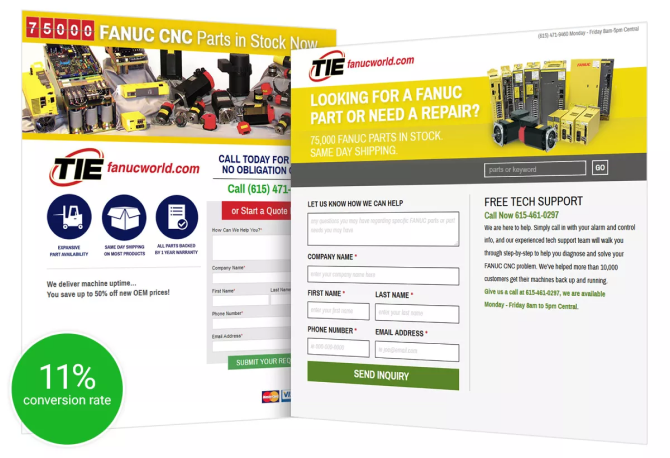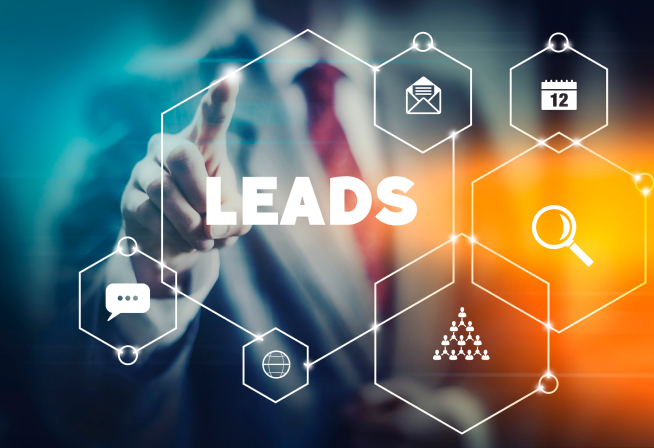 The Services We Offer as Google Ads Management Experts
At Digital M, we excel in crafting and overseeing exceptionally effective Google Ads/AdWords campaigns, consistently generating new leads and boosting sales for websites. As a distinguished Google Premier Partner, we possess deep expertise in Google Ads, ensuring a substantial return on your advertising investment.
Our services encompass:
Comprehensive keyword research and strategy
Thorough analysis of Google Ads campaign budgets
In-depth review of competitor ads
Creation and optimization of compelling landing pages
Expert setup of Google Ads campaigns
Crafting and testing Google ad copy for maximum impact
Continuous analysis of conversion rates
Rigorous content review and strategic modifications
Proficient Google Analytics assessment
Ongoing bid adjustments for enhanced performance
Plus a host of other invaluable services to drive your success.
Understanding the Mechanics of Google Ads
Google Ads, Google's advertising platform, operates on a pay-per-click (PPC) model, allowing businesses to display ads on Google's search engine and network of partner websites. When someone conducts a relevant search query, Google displays ads at the top and bottom of the search results page, marked as "Ad." Advertisers bid on specific keywords, and when a user's query matches those keywords, the ads are eligible to appear. Ad position and visibility are determined through a combination of bid amount, ad quality, and expected click-through rate.
The Google Ads system prioritizes relevance and user experience. It uses a quality score to assess the quality of an ad, which takes into account ad relevance, landing page quality, and expected click-through rate. Advertisers set a budget, and they are charged only when someone clicks on their ad (hence, pay-per-click). This pay-as-you-go model allows for budget control.
Successful Google Ads campaigns require a combination of well-researched keywords, compelling ad copy, optimized landing pages, and ongoing management to ensure maximum ROI. Advertisers can track performance, adjust their campaigns, and refine their strategies to reach their specific marketing goals, whether it's driving website traffic, generating leads, or increasing sales.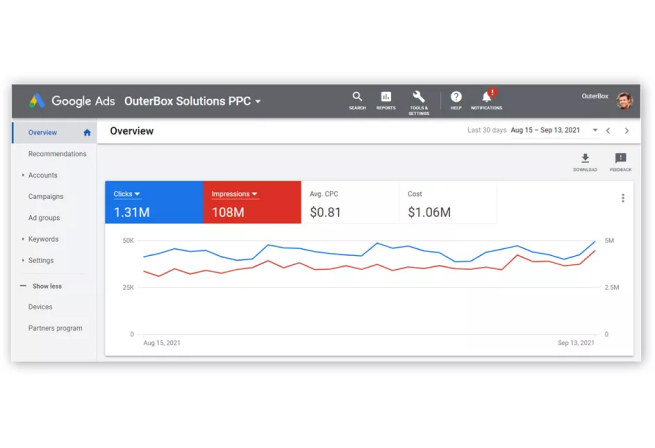 Collaborating with the Digital M Ads Management Team
When Collaborating with the Digital M Ads Management Team, our focus from the outset is squarely on your business objectives. During our initial engagement, our sales team diligently gathers insights into your goals. If we determine that a partnership is mutually beneficial, we kickstart the process. At this point, you'll be paired with a dedicated Google Ads expert who will formulate a comprehensive strategy designed to meet your goals efficiently. We strive to reach those milestones as swiftly as possible, though, like any marketing endeavor, the first 2 or 3 months involve fine-tuning. Our commitment to optimization remains unwavering, as we continuously assess and refine every aspect of your Google Ads campaign, encompassing keywords, ad copy, budget allocation, targeting, and more, month after month.
Learn More About Google Ads Costing
The cost of Google Ads is determined by a pay-per-click model, where you only pay when a user clicks on your ad and is directed to your website. The price per click varies depending on the competitiveness and popularity of the chosen keywords, with more competitive keywords often having a higher cost.
Google Ads operates on a bidding system, meaning that advertisers compete with one another by setting bids on keywords, and those willing to pay more typically secure higher ad placements. However, the great advantage of Google Ads is the flexibility it offers in terms of budgeting. You have complete control over your spending, and you can adjust your budget to align with your specific goals, competitive landscape, and campaign performance. This adaptability ensures that you can maximize your return on investment while remaining aware of and in charge of your advertising costs.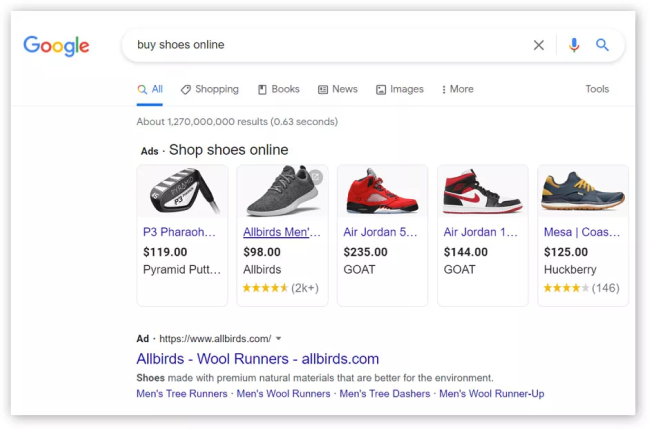 Optimizing Google Ads for eCommerce Success
Google Ads management for eCommerce websites is a dynamic and strategic approach to leverage the power of Google's advertising platform for online retail success. It involves crafting and optimizing ad campaigns specifically tailored to the unique needs of eCommerce businesses. Advertisers in this space aim to promote products, drive website traffic, and generate sales.
Effective management includes keyword research to identify high-converting terms, creating compelling ad copy that showcases products, setting competitive bidding strategies, and optimizing landing pages to facilitate seamless shopping experiences. Regular monitoring, testing, and adjustments are essential to ensure maximum return on investment. By harnessing the precision of Google Ads, eCommerce businesses can connect with potential customers at the moment of purchase intent, ultimately increasing revenue and growing their online presence.
Maximize Savings with a High-Performing Ads Campaign
Inefficiently managed Google Ad campaigns are a common pitfall, resulting in unnecessary overspending for businesses striving to meet their objectives. Several primary reasons contribute to this:
Lack of active campaign management.
Bidding on inappropriate or ineffective keywords.
Directing visitors to low-converting landing pages.
Poor timing for ad displays.
Sole reliance on text ads, neglecting Google Shopping.
Insufficient utilization of negative keywords.
Inexperience in campaign management.
Frequently, we've witnessed the potential to increase your leads or sales by more than double without increasing the budget, indicating that the campaign was operating at only 50% of its effectiveness. At Digital M, our approach includes a comprehensive Google Ads audit, revealing misconfigurations and highlighting areas for enhancement within your campaign, ultimately optimizing performance and minimizing costs.
We will furnish you with an in-depth PPC audit, as above, and guide you through the most significant challenges in your Google Ads campaign, offering effective solutions to address them.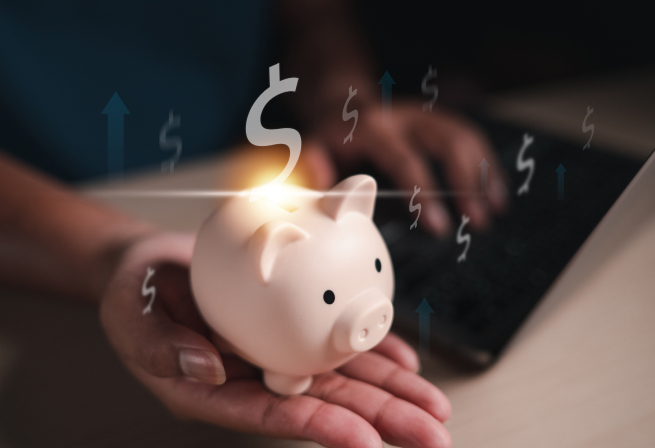 The Significance of Well-Tailored Paid Search Landing Pages
Optimized paid search landing pages are the linchpin of a successful digital advertising strategy. These pages are meticulously designed to align with the specific intent of users clicking on your ads, ensuring a seamless and relevant experience. By providing precisely what the user is seeking, be it information, products, or services, you not only enhance their experience but also increase the likelihood of conversions.
A well-optimized landing page includes compelling content, clear calls to action, and a user-friendly layout that minimizes distractions. When users find what they're looking for quickly and easily, it significantly improves the overall effectiveness of your paid search campaigns, ultimately driving more conversions, reducing bounce rates, and maximizing the return on your advertising investment.
Pricing for Google Ads Management
Pricing for Google Ads management varies widely based on a multitude of factors, including the complexity of the campaign, the level of competition in your industry, and the goals you aim to achieve. Typically, these services are offered in several pricing models, such as a flat monthly fee, a percentage of your advertising spend, or performance-based pricing.
We consistently deliver cost savings that often exceed our management fees by transforming campaigns into exceptionally efficient, effective, and profit-driven assets. For a precise quote tailored to your campaign's needs, we invite you to complete our estimate request form or reach out to us.
Search Engine Marketing (SEM) is a digital marketing tool to increase brand visibility by ensuring that it features on the top of the search engine results page (SERP). It's a paid advertising service provided by all the different search engines. Through this, you are not competing to get a space organically on the SERP and can reach more potential customers, drive traffic and boost conversions.
How is SEM different from SEO?
Simply put, SEM is a paid drive undertaken to increase your site visits, and SEO is an attempt to earn them organically. The ultimate goal of both approaches is the same, and they need to work in parallel to achieve it. SEO helps you identify the keywords that you can use to optimise your SEM campaign and make it more successful.
Does my company need SEM?
There is no industry that the digital world has not touched. The first instinct of any potential customer, employee or partner is to go online and research the company to understand its market standing. So, if you want to make an impression and increase your reach, you should invest in SEM. It is one of the most cost-effective marketing channels to create brand awareness and increase sales. Contact us today to discuss the best SEM tactics that would be ideal for "YOU".
Dayparting or ad scheduling is an SEM tool used to reach your target audience effectively. It enables you to schedule your ad campaigns only during certain times of the day or week. This way, you won't waste your precious resources and be able to catch your audience's interest when they are more open to it. You can also use these tactics to tweak the messaging of the ad as per your customer's mindset during that time of the day.
However, there are more aspects to consider other than dayparting, like location, demographics and device targeting, to have a winning SEM plan. But fret not; you won't have to worry about anything with Digital M as your SEM strategist. We would do the required analysis and suggest the best SEM tactics you can adopt.
Why should you choose Digital M?
At Digital M, we curate SEM strategies specially designed, keeping all your requirements in mind. We keep track of the trends in your industry and use them to your advantage much before your competitors. We will also keep a check on click fraud. We will ensure that every cent you spend on SEM is used to its fullest, and none of it is wasted thanks to frauds done by bots, competitors, brand haters or click farms. You are sure to get a valuable return on your investment if you have Digital M as your SEM strategy partner.