Website Design, SEO, SEM, SMM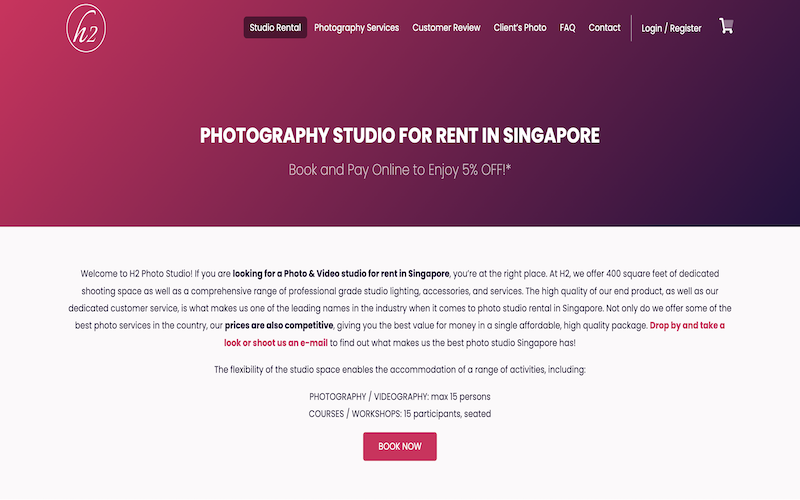 Case Study: Digital M's Integrated Digital Marketing Solution for H2 Photo Studio
Introduction
H2 Photo Studio is a well-established photography studio located in a bustling urban area. They specialize in portrait photography, event photography, and product photography. Despite their exceptional photography skills and dedicated staff, H2 Photo Studio faced challenges in reaching their target audience and expanding their online presence. Their website was outdated, they had limited visibility in search engines, and their social media engagement was minimal. Recognizing the need for a comprehensive digital marketing strategy, H2 Photo Studio partnered with Digital M, a leading digital marketing company.
Client Background – H2 Photo Studio:
Established in 2005.
Known for high-quality photography services.
Challenges: Outdated website, low online visibility, limited social media presence.
Challenges Faced by H2 Photo Studio:
Outdated Website: H2 Photo Studio's website was outdated, not mobile-responsive, and had a poor user experience.
Low Search Engine Visibility: The studio's website was not ranking well in search engine results pages (SERPs) for relevant keywords, making it difficult for potential customers to find them online.
Limited Social Media Presence: H2 Photo Studio had minimal engagement and a small following on social media platforms, limiting their ability to connect with their audience.
Digital M's Solutions:
Website Development:
Digital M conducted a thorough audit of H2 Photo Studio's existing website and proposed a modern, mobile-responsive, and user-friendly design.
The new website was built with an emphasis on showcasing the studio's portfolio, services, and client testimonials.
It also integrated online booking and inquiry forms to improve customer interaction.
SEO (Search Engine Optimization):
Digital M implemented an on-page and off-page SEO strategy to improve the studio's search engine ranking.
Keyword research was conducted to identify target keywords for the photography industry.
Regular content updates and backlink building were performed to boost the website's authority and relevance.
SEM (Search Engine Marketing):
Digital M created and managed pay-per-click (PPC) advertising campaigns on search engines like Google to increase the studio's online visibility.
Ad campaigns were designed to target local customers and capture high-intent leads.
Constant monitoring and optimization ensured a high return on investment (ROI).
SMM (Social Media Marketing):
Digital M created and managed social media profiles on platforms like Facebook, Instagram, and Pinterest.
Engaging content was regularly posted, including behind-the-scenes shots, client stories, and photography tips.
Paid social media advertising campaigns were executed to expand H2 Photo Studio's social media reach.
Results:
Website Development: The new website received positive feedback from customers and improved user engagement. The website's mobile responsiveness enhanced the user experience.
SEO: H2 Photo Studio's website started ranking on the first page of Google for several relevant keywords like photo studio singapore, photo studio and best photo studio singapore, leading to increased organic traffic.
SEM: The PPC campaigns generated a substantial increase in website traffic, and H2 Photo Studio reported a significant increase in inquiries and bookings.
SMM: The studio's social media following grew steadily, and engagement with the audience increased. The campaigns led to more referrals and inquiries.
Conclusion:
Digital M's integrated digital marketing solution helped H2 Photo Studio address their challenges comprehensively. The partnership resulted in a modern, user-friendly website, improved search engine visibility, and a strong social media presence. With these improvements, H2 Photo Studio experienced a boost in online bookings and brand recognition, ultimately leading to increased revenue and business growth.
This case study demonstrates the value of a holistic digital marketing strategy and the expertise of Digital M in driving online success for their clients. Contact us today to give your website a new life in this dynamic digital world.