Riben Renovation Contractor
Website Design, SEO, SEM, GMB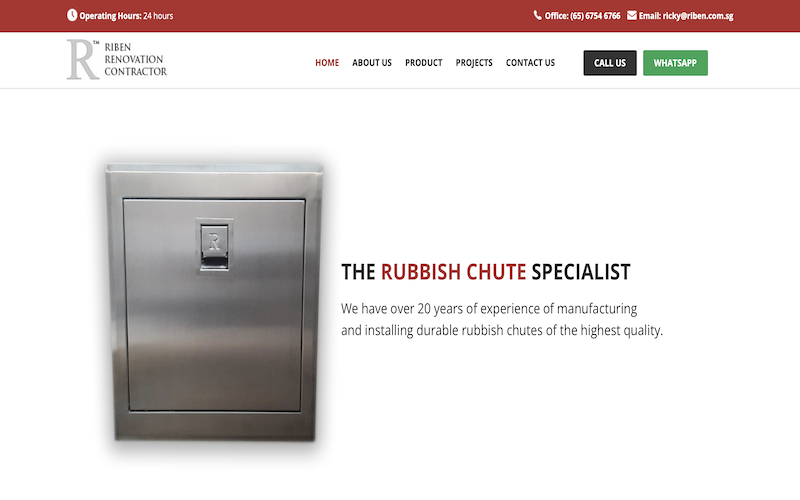 Case Study: Digital M's Digital Transformation for Riben Renovation Contractor – The Rubbish Chute Specialist
Introduction
Riben Renovation Contractor, popularly known as "The Rubbish Chute Specialist," boasts over 20 years of experience in manufacturing and installing durable rubbish chutes of the highest quality. Despite their extensive industry experience and renowned craftsmanship, they faced challenges in establishing a robust online presence and reaching their target audience. Their website was outdated, their search engine visibility was minimal, and their Google My Business (GMB) listing needed optimization. Recognizing the need for a comprehensive digital marketing strategy, Riben Renovation Contractor partnered with Digital M, a renowned digital marketing company.
Client Background: Riben Renovation Contractor – The Rubbish Chute Specialist:
Over two decades of experience manufacturing and installing high-quality rubbish chutes.
Specializes in durable and efficient solutions for rubbish disposal in construction projects.
Challenges: Outdated website, low online visibility, underoptimized GMB listing, and difficulties reaching their target audience.
Challenges Faced by Riben Renovation Contractor:
Outdated Website: Riben Renovation Contractor's website was outdated, not mobile-responsive, and provided a poor user experience.
Low Search Engine Visibility: The company's website was not ranking well in search engine results for relevant keywords, making it challenging for potential customers to find them online.
Underoptimized GMB Listing: Their Google My Business listing was incomplete and lacked essential information like business hours, images, and customer reviews.
Digital M's Solutions:
Website Design:
Digital M conducted an extensive analysis of Riben Renovation Contractor's existing website and recommended a modern, mobile-responsive, and user-friendly redesign.
The new website highlighted the company's extensive experience, product offerings, and client testimonials.
It also integrated lead capture forms for inquiries and quote requests.
SEO (Search Engine Optimization):
Digital M implemented an on-page and off-page SEO strategy to enhance the company's search engine ranking.
Keyword research was conducted to identify relevant keywords in the rubbish chute manufacturing industry.
Regular content updates and backlink building were performed to enhance the website's authority and relevance.
SEM (Search Engine Marketing):
Digital M created and managed pay-per-click (PPC) advertising campaigns on search engines like Google to boost online visibility.
Ad campaigns were designed to target construction professionals searching for rubbish chute solutions.
Continuous monitoring and optimization ensured a high return on investment (ROI).
GMB Optimization:
Digital M optimized Riben Renovation Contractor's Google My Business listing with complete business information, high-quality images showcasing their products, and encouraging customer reviews.
Local SEO strategies were employed to enhance the GMB listing's visibility in local searches.
Results:
Website Design: The new website received positive feedback from customers and significantly improved user engagement. The mobile-responsive design enhanced the user experience.
SEO: Riben Renovation Contractor's website began ranking higher for relevant keywords in search engine results, leading to increased organic traffic and inquiries.
SEM: The well-structured PPC campaigns led to a notable increase in website traffic and boosted the number of inquiries, contributing to business growth.
GMB Optimization: The GMB listing's visibility in local searches improved, resulting in more calls, direction requests, and website visits through the GMB profile.
Conclusion:
Digital M's comprehensive digital marketing solution proved instrumental in helping Riben Renovation Contractor – The Rubbish Chute Specialist – overcome their online visibility and customer engagement challenges. The partnership resulted in a modern website, improved search engine ranking, successful PPC advertising campaigns, and a well-optimized GMB listing. These improvements led to an increase in inquiries, bookings, and brand recognition, ultimately contributing to business growth.
This case study highlights the value of a holistic digital marketing strategy and Digital M's expertise in driving online success for their clients, especially in the context of website design, SEO, SEM, and GMB optimization.