Website Design / SEO / SEM / SMM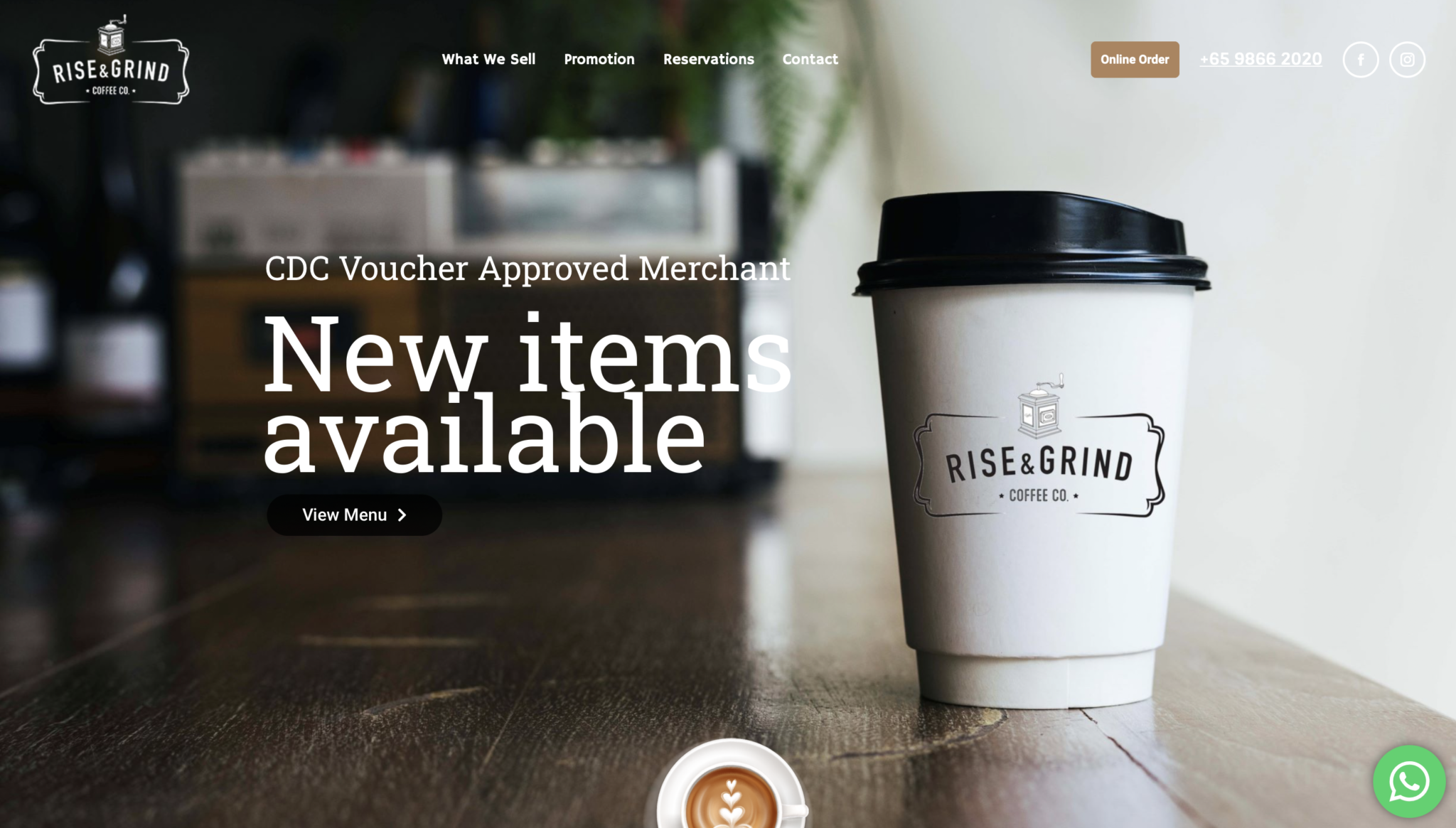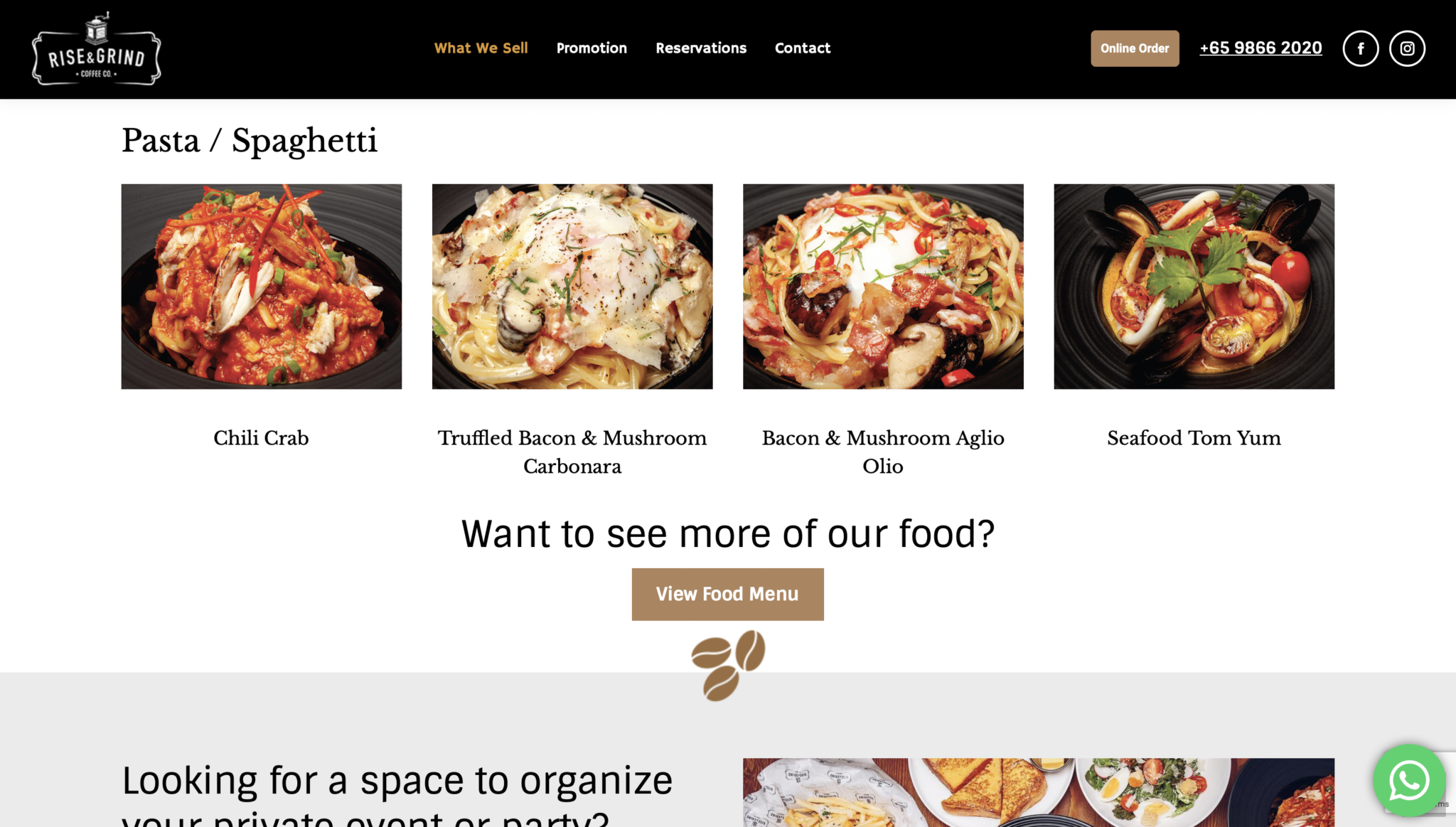 Challenge:
Rise & Grind Coffee Co. is an Australian-inspired cafe in Singapore. They strongly believe in only providing fresh and high-quality coffee and food to their clients. But being a competitive market with so many well-established players, they had to do something more to capture attention.
They needed someone with digital marketing expertise to help them set foot in the digital world as well as promote their brand name, and hence they reached out to us. Also, they wanted to build their online presence to spread the word about the delicious food and beverages they offer. As a result, we curated a phase-by-phase digital marketing plan to ensure Rise & Grind Coffee Co. gets the due credit it deserves and becomes a well-known brand in Singapore.
Solution:
Initial Set-up

Website Creation: Design and create a well-structured F&B website that is easy to navigate and can showcase the photos of the sumptuous food and drinks as well as feature their menu. The website also needed to be mobile-friendly along with an online ordering mechanism.
Search Engine Optimisation (SEO): Identify the keywords for the F&B industry through keyword analysis and map them. 
Social Media Management: Create social media presence on the right platforms to help Rise & Grind Coffee Co. reach its target audience.

Google Business Profile: Build and manage the business reputation on google by creating the Google Business profile and Google My Business account.

Deliverables

Website on-site optimisation.
Website content management to feature updated content and promotions.
Create and post engaging content and promotions on Social Media.
Boost brand visibility through SEO and increase online traffic to the website.
Manage the Google Business profile and share photos, offers and more to show how Rise & Grind Coffee Co. is unique.
Step 1: Marketing Analytics
F&B being a very competitive market, we started by doing a thorough market analysis. Then, with the help of online tools and our expertise, we understood the F&B industry landscape in Singapore and identified the key players.
Our next step was to do a detailed competitor analysis that helped us gauge the best practices followed in the digital marketing space and the market gaps. Finally, we created an effective SEO and Social Media strategy for Rise & Grind Coffee Co., using this critical information.
Step 2: Implementing the Strategy 
We developed an SEO strategy that is suitable and effective for the F&B industry. We used the relevant keywords to ensure that Rise & Grind Coffee Co. not only appear at the top of a google search but also before its competitors.
We also paid attention to local SEO to improve the SERP ranking within Singapore as well as Punggol, where its located.
Regularly post fresh content and photos on social media pages like Google my business, Facebook and Instagram to engage and grab the audience's attention.
Step 3: Monitoring the Progress
We regularly monitor the website's SERP and send monthly reports to the client.
We also keep track of the leads generated every month through various platforms. Then, based on our insights, we recommend the client to run different campaigns on specific platforms to increase the leads.
Meet the client every month to present the progress and address their concerns.
We monitor and revisit our digital marketing strategy to make it more powerful and implement the changes if required.
We manage the website updates and fix any broken links, if any, regularly.
Results
The website ranks on the first page for most of the identified keywords.
The social media reach on Facebook is more than 190K, whereas, on Instagram, it is 24K in less than a year.
On average, they receive more than 100 enquires weekly via different channels.
Client reviews went by hundreds on Google My Business within two months.