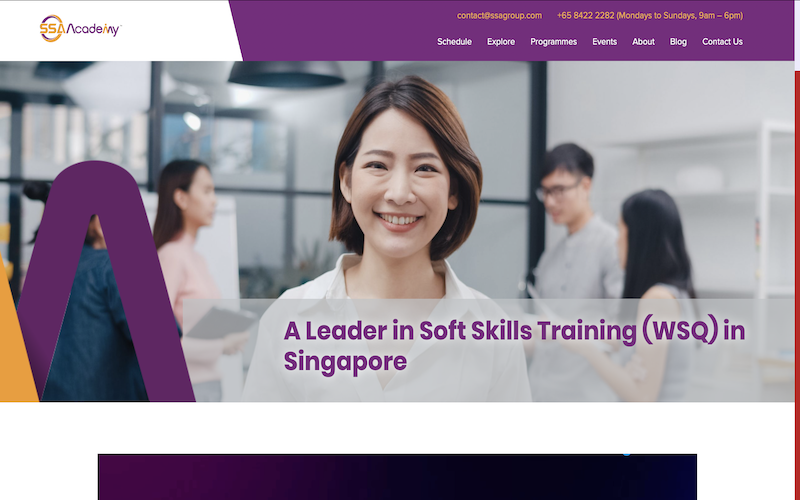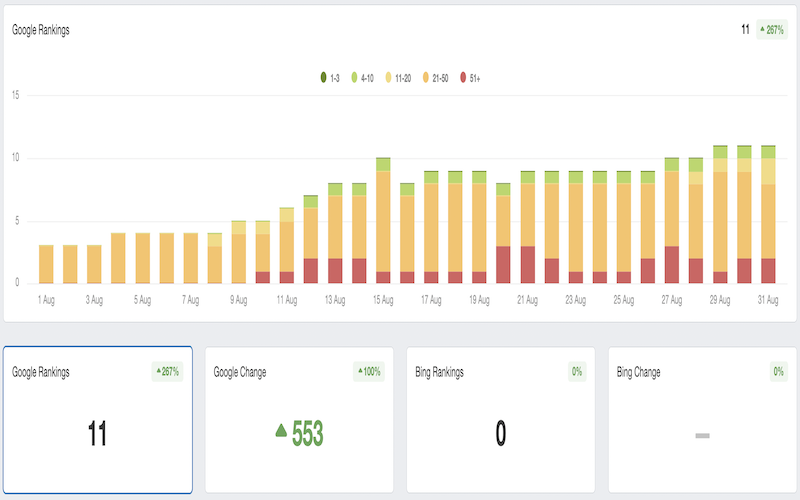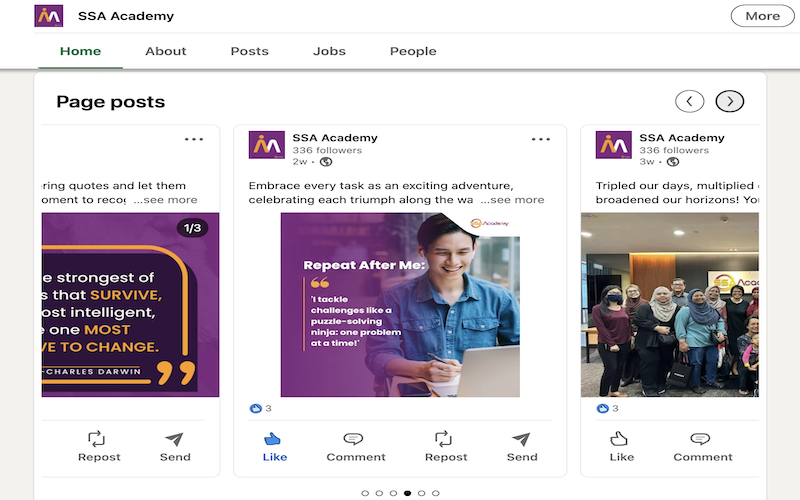 Driving Success through Strategic Digital Marketing: A Case Study with SSA Academy
Introduction
In the fast-paced world of learning and development, staying ahead of the competition requires more than just great courses; it demands a robust online presence and a strategic approach to digital marketing. SSA Academy, a leading soft-skills training provider, recognized this need and partnered with Digital M, a premier digital marketing agency in Singapore, to enhance its digital footprint. Over a span of three months, Digital M meticulously crafted and executed a comprehensive digital marketing strategy, focusing on SEO, SEM, and LinkedIn management. The result? A remarkable 38% increase in inquiries demonstrates the power of data-driven, integrated digital marketing. In this case study, we delve into the strategies employed and the incredible outcomes achieved.
Client Overview: SSA Academy
SSA Academy is a reputable WSQ training institution in Singapore, offering a wide range of courses and training programs. With a commitment to providing quality skills, SSA Academy has established itself as a leader in its field. However, like many training organizations, SSA Academy was seeking to expand its reach and attract a larger audience.
Challenges Faced by SSA Academy
Limited Online Visibility: SSA Academy's website was not ranking prominently in search engine results, resulting in limited online visibility.
Underutilized LinkedIn Presence: The academy's LinkedIn profile was not fully optimized, failing to engage with the target audience effectively.
Inconsistent SEM Strategy: SSA Academy's SEM campaigns were not yielding the desired results in terms of lead generation.
Digital M's Approach
Digital M conducted a thorough analysis of SSA Academy's online presence and devised a multi-faceted digital marketing strategy to address these challenges.
Search Engine Optimization (SEO): The team performed comprehensive keyword research and on-page SEO optimization to improve the website's visibility on search engines. Blogs were also created and optimized to align with the target audience's search intent.
Search Engine Marketing (SEM): Digital M revamped SSA Academy's SEM campaigns by refining ad targeting, ad copy, and landing page experiences. This approach ensured that SSA Academy's ads appeared to the right audience, driving more qualified leads.
LinkedIn Management: To maximize SSA Academy's presence on LinkedIn, Digital M undertook a holistic LinkedIn management approach. This involved regular content creation, including informative articles and engaging visuals.
Results Achieved
The partnership between SSA Academy and Digital M resulted in significant improvements across multiple key performance indicators (KPIs):
38% Increase in Inquiries: The most striking result of the collaboration was the impressive 38% increase in inquiries from potential students. This surge in interest directly translated into a boost in enrolments.
Page 1 Rankings: SSA Academy's website now ranks prominently on the first page of search engine results for important keywords related to its courses.
Improved Click-Through Rates (CTR): SEM campaigns witnessed a noticeable increase in CTR, leading to a higher ROI on ad spend.
Enhanced LinkedIn Engagement: SSA Academy's LinkedIn profile saw a surge in engagement, with a growing follower base and meaningful interactions with the target audience.
Conclusion
The success story of SSA Academy's digital transformation through its partnership with Digital M serves as a testament to the power of strategic digital marketing. By addressing the specific challenges faced by the training and development industry, Digital M was able to significantly increase inquiries, improve online visibility, and create a stronger digital presence for SSA Academy. This case study exemplifies the effectiveness of integrated SEO, SEM, and LinkedIn management in achieving remarkable results and underscores the value of a collaborative approach between a digital marketing agency and its clients. With the right strategy and execution, any business can harness the potential of digital marketing to achieve outstanding growth. Are you ready to take your digital marketing efforts to the next level?
Contact Digital M today
to explore how we can help you achieve similar success in your industry.