Search Engine Optimization (SEO) is a practice with aims to boost up website ranking for higher visibility in search engines.
Easier to grasp:
"SEO is a practice of optimizing website content for search engines to crawl, read, index and rank (higher) when relevant queries are made."
SEO is crucial in exposing your business in the online world. If done properly, it can bring in thousands of visitors monthly or daily, and this traffic will surely boost leads and sales.
What is a Search Engine?
Before we go in-depth with SEO, you need to understand what a search engine is first.
Search engine is a program that allows you to search for content through the World Wide Web (WWW). Currently, the major search engines commonly used are Google and Bing (owned by Microsoft). When you enter the keywords you are searching for into the program, it will search in it's database and presents the relevant.
For example, if you enter the phrase "what is SEO" on Google, the search engine will use it's algorithm to look for the best answer to fulfill your request, and display them in the search result pages.
From the below example you can see there are 762,000,000 websites corresponding to your search, but the most trusted and first result presented is the site: https://searchengineland.com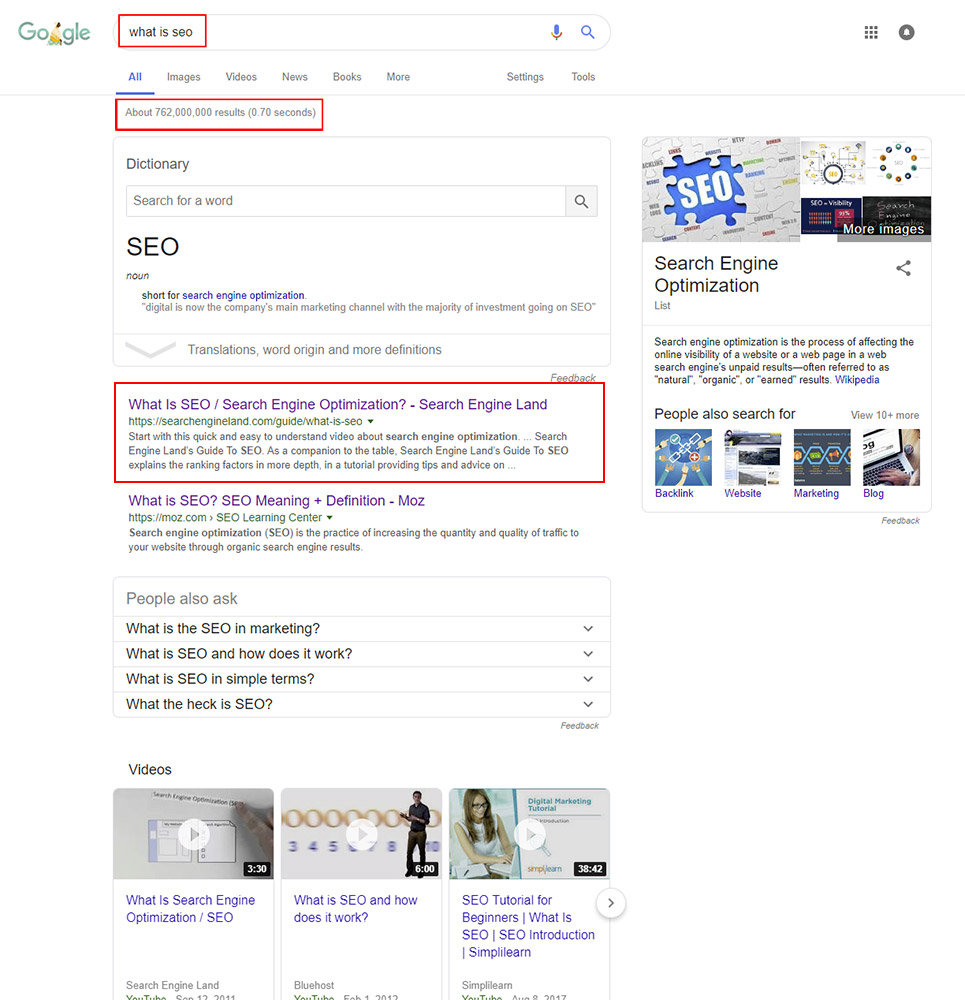 Basically, a search engine has 3 major functions:
Discover content on the WWW (known as crawling)
Track and store content (known as indexing)
Retrieve relevant content when a search is made (the search engine)
How does Google Works?
Let's look at the steps mentioned above in more details.
Crawling
There isn't a central registry of website pages so Google must constantly search for new pages to add them into it's list of known sites. This process of discovery is called crawling.
Indexing
After a page is discovered, Google will 'read' through the pages – a process known as indexing. Google will then analyse the content of the page, catalogs images and video files embedded on the page and store them in the Google index, a database with the storage level of a thousands of machines. Learn more from the video below.
To ensure indexing of your website, you can manually submit your sitemap.html to Google Search Console.
Ranking
Every time you made a search, thousands of results that match your query will be picked up. However, only the most relevant and the ones with the highest quality content will be shown in the first few pages of the search results. Google has it's own ranking algorithm to determine the positions. In the past, Moz SEO have listed 200 elements that affect the result pages ranking and today, we will filter out the most important SEO ranking factors you should focus on.
BUT, note that, no one outside Google really knows how the ranking algorithm works.
The reason for that is if all information of it's algorithm leaks, someone will definitely take advantage of the system at the expense of the platform's searchers. Thus, it is a patented industry kept secret and updated regularly. Every year, Google releases hundreds of algorithm updates to prevent this concern.
Nevertheless, there are some unchanged factors that many SEO professionals consider keys to the Google algorithm. These include:
Domain-level keyword usages such as exact-match keyword domains and keyword matches
Social metrics such as quantity/quality of Facebook shares and Tweeter links
Traffic quantity/query data of the website
Offline usage of domain name  or mention of the name/brand
Length, readability, uniqueness and loading speed of web content
Quality and quantity of links
How does SEO help your business?
Organic search ranking attracts approximately 90% of search traffic, allowing long-term effect and higher conversion rate.
Even after achieving high traffic rate on your website, remember to ask yourself: "are the people visiting my site getting what they want?" Ensure your website is following the best user experience it can to ultimately convert visitors into customers.
Experts' Opinions on SEO
Someone asked me, " You mentioned that Google algorithm do change often. And SEO is done in accordance with the recent algorithms. Now, what will happen to my current SEO campaign if Google or any decides to change its algorithms tomorrow? Will all my efforts go to the drain?"

This SEO expert asserts that although SEO is constantly changing, it does will never lose its significance as long as websites exist." She adds that it is important for businesses to have their websites updated regularly in accordance with Google's Quality Raters' Guidelines.

Therefore, your past web content or web site might not necessarily become completely unuseful for SEO as a result of major or minor changes in Google algorithm. You just need to have it tweaked for it to be in line with the new guidelines.

 Marie Haynes, the owner
of Marie Haynes Consulting
We have seen what SEO can do to you as a business owner with a website. Now, let's look it from a client's perspective.
How do your customers benefit from SEO?

SEO helps your existing and potential customers to get answers to their questions from your content. Using SEO, you can establish the questions that these customers have and guide you on how to answer them appropriately. When they enter questions that are relevant to your niche on a search engine, the customers see your answer in the search results, if you have used SEO correctly.

Andrew Cock‐Starkey,
an SEO Consultant Optimisey
His assertion is supported, although indirectly,
According to Andy, SEO is more than just on‐page work and back-linking. You should ensure that people who visit your website have a pleasant experience with the site.

Particularly, it is important to see that these visitors get what they are really looking for. If they want to complete. Google give ranking preference to sites with high traffic conversions than those with thousands of tyre kickers and just a few conversions or none at all. It's your capability of meeting the intent of the searches performed on search engines that's rewarded.
Andy Drinkwater,
an SEO Consultant at IQSEO
SEO Difference between Singapore and other Countries
We recently have a client in Singapore who approached us. He was confused and couldn't understand why his website was nowhere to be seen when he tried searching it in Malaysia, though his website ranking in Singapore is No.1.
Why is this so?
Google always takes into consideration where your business is from. Local business will have the priority to rank first.
Wondering how Google knows the location of your business?
Google looks at several factors, for instance, the contact details, address, and any other location information your website contains. Your domain (eg. .sg, .com.sg) and IP address will also be used to determine your operating country.
Another factor, for example, people staying in Singapore will access Google through google.com.sg, access exclusively applicable to the locals. If you are situated in another country, let's say, Malaysia, as mentioned in the case above, Google access will differ. In Malaysia, searchers search using google.com.my.
There may also be an SEO ranking difference within the country depending on the level of competition. Singapore has only one city and thus, competition for local SEO might be slightly higher compared to countries with more cities.
Learn more on SEO
There are tons of useful resources on the web if you are interested in learning more about SEO and it's techniques.
We highly recommend the followings:
Need Help with your SEO?
SEO is the backbone of any digital marketing campaign. Discuss more with our SEO consultants and learn how we can help you get your desired results. Get in touch here.